The Great Locomotive Chase
Since I can remember, I have always had an interest in the American Civil War, and have been rather fascinated by many stories of the family hardships that the War Between the States caused. In 1992, I traveled to the NMRA convention in Columbus, OH. It was my first time 'back east' and since the map revealed that Gettysburg was only a scale 'two inches away', I had to go! Arriving at the historic battlefield late in the day, I remember walking down a path at sunset just below the Big Round Top and Little Round Top. Alone on the path, I had my first encounter with fireflies. It added to the eeriness of the moment in watching their brief existence, while lighting a place for only seconds against the darkening forest around me. It was very memorable as I write this today, and that moment is fixed in my mind's eye.
I have returned to Gettysburg several times since. Once was for the 135th anniversary of the battle and I took my son, Jeremy, with me. It was a great father/son trip in attending the reenactment as 'spectators' of what had to be 20,000 troops in blue and gray and a memory we will never forget. Now remembering 150 years, after these actual events, it brings a greater meaning to my release of a special production for the Walt Disney Family Museum on May 10th, which is Gold Spike Day. This is a grand 'commemorative set', of the Texas and the General, for the Disney film The Great Locomotive Chase, based on the actual Civil War event. More to the story will be coming, but if you can join Barb and I, it will be a very fun day! See the Walt Disney Family Museum Website for additional details!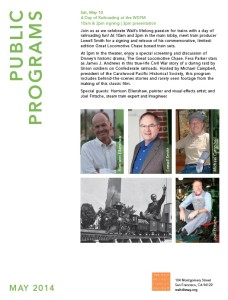 ADayOfRailroading (Flyer in PDF)