Southern Railway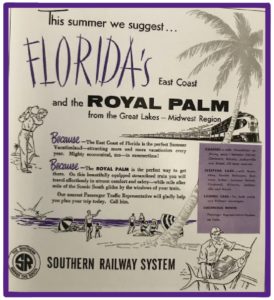 The Southern Railway had many well known and recognizable passenger trains. Southern's fleet of Pullman-Standard cars was significant and an easy excuse to help those fans, that for most of their N Scale lives have been neglected. Here is a short summary of two of Southern's 'Name Trains'.
Crescent– NewYork to New Orleans via PRR-Southern-A&WP-WofA-L&N.
Royal Palm- Sailing from the northern cities of Chicago, Detroit, Buffalo south to Miami via NYC-SOU-FEC.
RailSmith has already released two New York Central sleepers, with limited remaining stock. We have also announced the Florida East Coast both sleepers and coaches, so it seems natural to show a consist of the Royal Palm as we only need to add some Southern cars to build this train!  Seasonally the Royal Palm carried heavy-weight head end with the rest of the train newer lightweight cars. While in the off season, the New Royal Palm was as it suggests all 'new' lightweight cars and ran on a faster schedule. So choose what you'd like to model with Southern Railway streamline cars added to the line up of RailSmith cars. We will also point out that with Kato's release of NYC's 20th Century Limited, you have a choice of their NYC cars and power for this model of Royal Palm.
Showing all 15 results