Great Northern Series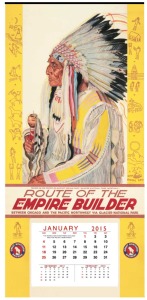 The Great Northern Series captures the stunning art of Winold Reiss and his Blackfeet Indian paintings which were used for thirty years of calendar art and promotional purposes for the Great Northern Railway.
Through a license agreement with the BNSF Railway Company, Lowell Smith Signature Series brings you a chance to own current calendars with this iconic art from the past. Reproduction with technical accuracy from the 1946 version, 'Wades-In-The-Water' is the second release. Dimensions 17″ x 33″.
Future releases will be announced here.
Showing all 2 results