Passenger Service on the SP&S
The picture below tells a fun story of this Northwest train, our next Build-a-Train consist.
The SP&S Train #2 ran from Portland to Spokane. Train #1 ran the opposite direction. This photo shows its late-day trip west of Wishram, Washington traveling at speed over the fill at Horse Thief Lake, with the mighty Columbia River in the background.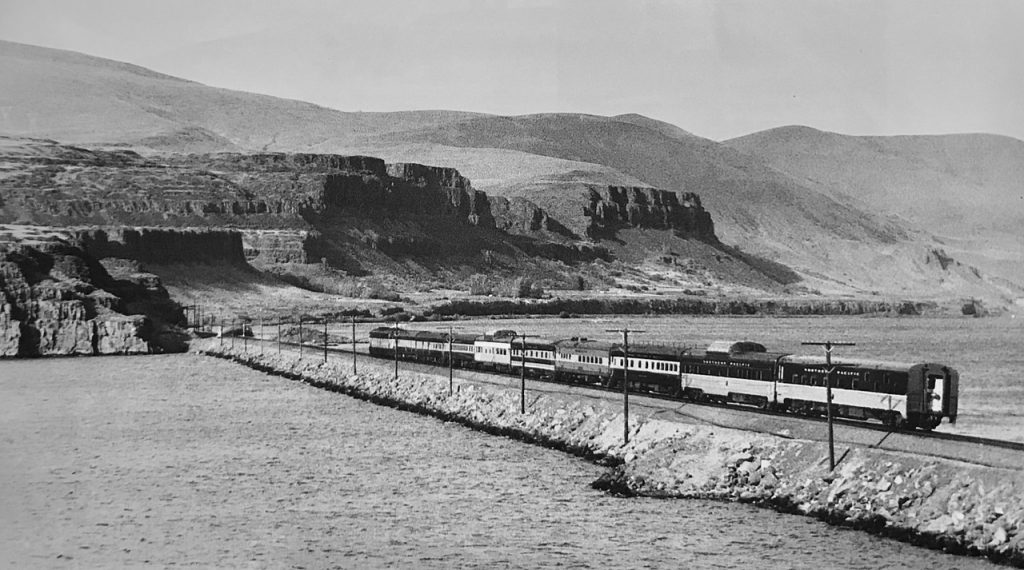 What is interesting is this typical consist. The SP&S #1 & #2 carried the connecting cars for the GN's Empire Builder and the NP's North Coast Limited.
From the last car seen here and moving forward: NP Sleeper, NP Dome Coach, SP&S Mount Hood Sleeper Lounge, SP&S Diner Willamette (fluted car purchased from MKT), GN Sleeper, GN Dome Coach, SP&S Coach, SP&S RPO 31, SP&S Baggage Dorm 75.
The Northern Pacific cars will be set out at Pasco, Washington where the North Coast Limited coming from Seattle will pick them up and continue on to Chicago. The remaining SP&S train, now with the Mount Hood on the rear, will travel the remaining miles on to Spokane, Washington for a 1am connection with GN's eastbound Empire Builder, with the GN Sleeper and Dome Coach now becoming part of that train, which travels eastward to Chicago.
Local riders between Portland and Spokane would ride in the SP&S coach or Mount Hood Sleeper Lounge. Those riding beyond Spokane would ride either the NP or GN cars.
SP&S trains #1 &# 2 never carried a formal name, but were usually referred to as The Streamliner. Since they carried the connecting cars for GN & NP, those trains named Empire Builder and North Coast Limited were also common nomenclature.
History of the Cars
In the late 40's the SP&S updated its passenger fleet with new cars from the Pullman-Standard company. They were: 1 diner (405), 2 sleeper lounges (600 Mt Hood and 601 Mount St. Helens), 1 Baggage Dorm (75), 5 coaches (301-305). All were delivered to the SP&S in 1950. Three coaches (303-305) received the SP&S four stripe scheme and served on trains 3 & 4 or as needed. The other two coaches (301 & 302) along with all these other new cars, arrived in the orange and green Empire Builder scheme.
Prior to 1952, the NP cars were not carried on trains #1 or #2 as seen in this photo, but were on SP&S trains 3 & 4. So between 1950 and 1952, it was common to see a complete orange and green SP&S train #1 or 2. In those days, rightly called the Empire Builder.
I think I should have my brother paint this photographed moment in time and bring color to this memory!
Check out the SP&S Streamliner product page here.
Lowell