Years ago when Barb and I met Roy Rogers Jr. "Dusty" as he is known, it was a very special moment.  Being able to include this name in our Great American Circus and Wild West Show is just a treat! It is a shame most kids today do not know of Roy Rogers. Time moves on and names like Roy Rogers are part of our history in 'growing up'. I watched Roy, his horse Trigger, and his gang all-the-time. It was the early days of television. Do you remember?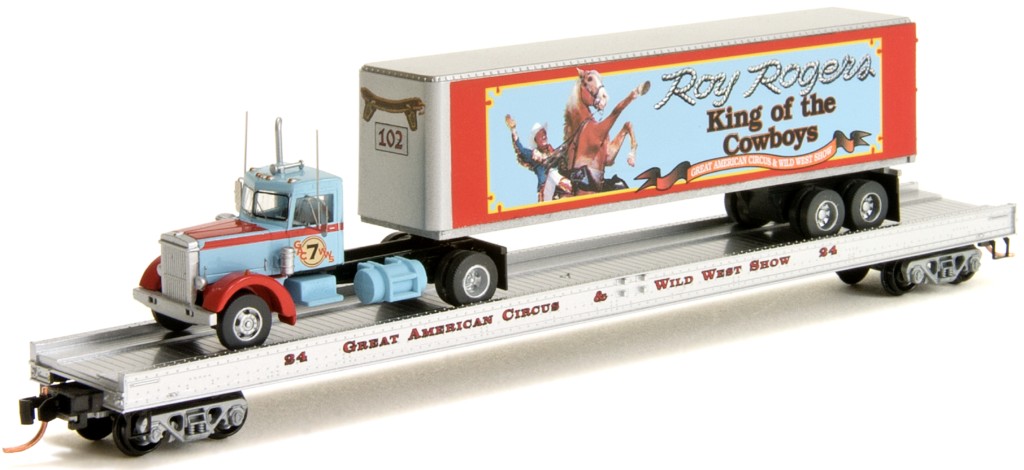 This trailer is the second release and is the Atlas 40-foot #102. The under frame and detail is Micro-Trains, with the wheels and tractor from Trainworx. Speaking of 'King', I think Pat at Trainworx is 'King of the Trucks'! I am sure you will agree that he has redefined what a quality highway truck is in N Scale! My Great American Circus release #29 "How the West Was Won' was so successful that I just had to ask Pat for another release. And, what a beauty it is!  GAC truck #7 pulls trailer #102 on Micro-Trains flat car #25 (image shown is #24). The Micro-Trains flat car is the only piece needed before this releases. I have all the other parts!
I just love this circus series and by your response, you do as well!
---